6 Health and Child Development
Program Highlights
Health Information
1
%
97% of families enrolled in Head Start/Early Head Start have a medical home
---
1
%
99% of families enrolled in Head Start/Early Head Start have medical coverage
---
1
%
80% of children completed a professional dental examination during the program year
---
1
%
93% of children are up-to-date on all immunizations appropriate for their age
Child Health & Development Services
Medical Screenings
Number of children had medical screenings complete
Number of newly enrolled children had developmental, sensory, and behavioral screenings complete
---
Medical treatments
---
Access to Medical/Dental Services
---
Types of Disabilities
Family Services
Number of families that received Emergency/crisis intervention (e.g. food, clothing, or shelter)
Number of families that received Research-based parenting curriculum
Number of families that received Education on preventive medical and oral health
---
Number of families that received Education on nutrition
Number of families experiencing homelessness acquired housing during the enrollment year (out of 82)
---
91% of families received at least one family service during the program year.
---
Pregnant Women Services
Number of pregnant women enrolled
Mental health interventions
Substance abuse prevention
Substance abuse treatment
Pregnant women with medical insurance
Pregnant women who received a dental exam
Prenatal education on fetal development
Information on benefits of breastfeeding
Pregnant women identified medically high risk
---
Trimester the pregnant woman was enrolled
Community Partnership & Health Program Highlights
UC Davis Betty Irene Moore School of Nursing (BIMSON)
Student interns from the Masters Entry Program in Nursing provided education and training programs to Head Start families and staff. Projects were delivered in various languages based on the linguistic needs of the children: Hindi, Hmong, Hungarian, Korean, Punjabi, Spanish, Swahili, Tagalog, Urdu, and Vietnamese.
In the Summer of 2022, the interns focused on the following projects:
Medication and Special Diet Checks
BIMSON interns assisted in monitoring care plans, special diet cards, feeding plans, and medications to ensure they are up-to-date, posted, and accessible. This protocol is conducted quarterly to ensure safety and compliance with Head Start and community care licensing regulations. Student nurses learned about childcare health and safety regulations as they assisted in this process.
Early Childhood Health Screenings
Early childhood health screenings such as growth assessments, hearing, blood pressure, and vision screenings are a few of the screenings that are important for the health and wellness of children. BIMSON interns helped screen about 300 children enrolled in the SETA-Operated Program.
Childhood Obesity Prevention Project using Coordinated Approach to Child Health (CATCH)
BIMSON interns in partnership with the Sacramento County Obesity Prevention Program and UC Davis Cooperative Extension Food and Nutrition Education Program worked with teachers to incorporate new indoor and outdoor exercise activities in children's playtime. The goal was to encourage movement and exercise among children. The CATCH activity promotes growth, development, and overall health through increased physical movement. Exercise also encourages play and helps in reducing childhood obesity.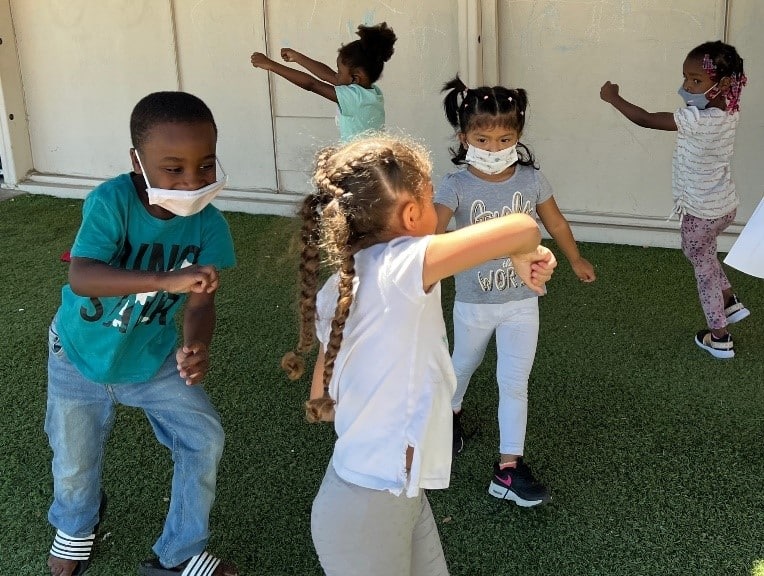 Oral Health Care
Early Smiles Sacramento Program partnered with BIMSON interns to provide oral health education and dental screenings. BIMSON interns provided fun ways to educate children. The interns spoke to the preschoolers in their native languages to learn more about preventive oral care practices. Oral health information, resources, and promotional items were offered to every enrolled child and their family. Participants received information and goodie bags that included a toothbrush, toothpaste, floss, a toothbrushing timer, and a copy of the "Potter the Otter Visits the Dentist" book which was available in English, Spanish, and Vietnamese. For children who were 18 months and younger, the goodie bags included bibs, finger toothbrushes, and washcloths. For families in the home-based program, the interns hosted various online webinars to provide dental care education and local resources.
Lead Screening Survey
BIMSON interns developed an online survey to help understand the reasons parents do not take their children for lead testing. Follow-up calls were made in various languages to better understand the reasons, to help with appointments, and/or to provide education and resources.
TB Testing for SETA Staff
Annual TB testing is required for all SETA staff to keep children and staff safe from infectious diseases. BIMSON interns administered a total of 91 Tuberculosis PPD skin tests to staff in a two-day period and provided education on TB, disease management, and its prevention.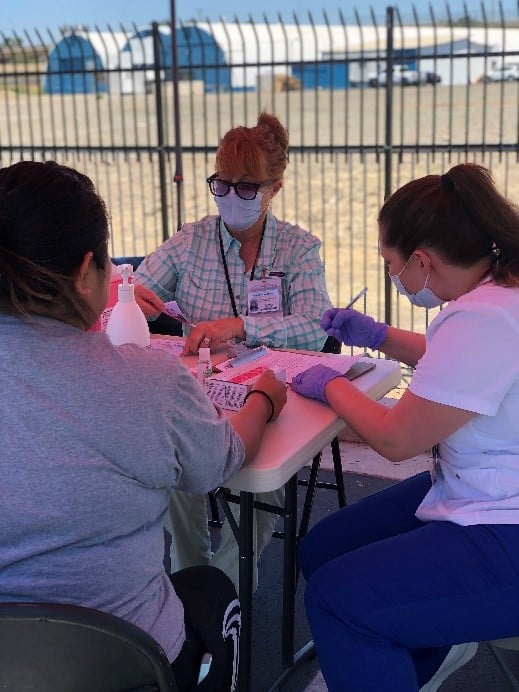 Medical Dental Referral and Navigation System (MDRAN)
SETA Head Start is part of the pilot Medical Dental Referral and Navigation System (MDRAN) sponsored through the Sacramento County Department of Public Health, Medical Dental Advisory Committee. The pilot allows partners in Sacramento to use the MDRAN database that directly connects the user with Medi-Cal dental providers to exchange information. This vital connection allows health and nutrition services staff to send direct referrals and help families navigate the Medi-Cal system. Referrals can be made to set appointments, and provide translation and/or transportation services directly to the dental provider.
ACCESS Dental
Partnership with ACCESS Dental allows for the Regional Member Outreach Manager to participate regularly in SETA Parent Meetings and Delegate Health Content Meetings for staff. Increased communication and outreach with Head Start families on Medi-Cal and the agencies who refer families for services will help expand the utilization of approved oral health services for Medi-Cal users. ACCESS Dental has also offered direct contact with families to navigate their members, partner with SETA by becoming a Health Services Advisory Committee (HSAC) member, and to understand the MDRAN system for enrolled families.
Sacramento County Oral Health Program
SETA is an active participant in the Sacramento County Oral Health Program's School and Preventative Subcommittee meetings to advocate for Head Start families. The subcommittee's focus is to expand services to children in school settings, provide more dental sealants and expand the use of oral health assessment in preschoolers.
UC Davis Cooperative Extension Food and Nutrition Education Program
UC Davis Cooperative Extension Food and Nutrition Education Program provides education on communicable disease prevention, awareness of healthy food choices, nutrition and health education, and prevention of childhood obesity to Head start families. Education activities include trainings, curriculum, materials, and resources for family and center use.
Sacramento County Department of Public Health COVID-19 Response Department
The Sacramento County Department of Public Health COVID-19 Response Department provided guidance for contact tracing and COVID-19 vaccine and testing clinics for the community and the Head Start program. The partnership expanded access to home testing kits, distributing at least 11,000 kits needed for agencies' procedures for regular COVID-19 testing of staff, children, and families. Resource information for mental health services, food lockers, testing and vaccine clinics, test kits (2 per family), hand sanitizers, and welfare benefits resources were provided weekly during the pandemic. They were a vital partner to children, parents, and staff during the pandemic.
Early Smiles Sacramento Program
Early Smiles Sacramento Program finished dental screening for Head Start children from January through April 2022. A total of 941 children were screened and 768 received a fluoride varnish. 746 children passed the dental screening, and no additional follow-up was necessary. 195 children failed the screening and were assisted to receive dental follow-up and treatment with their providers.